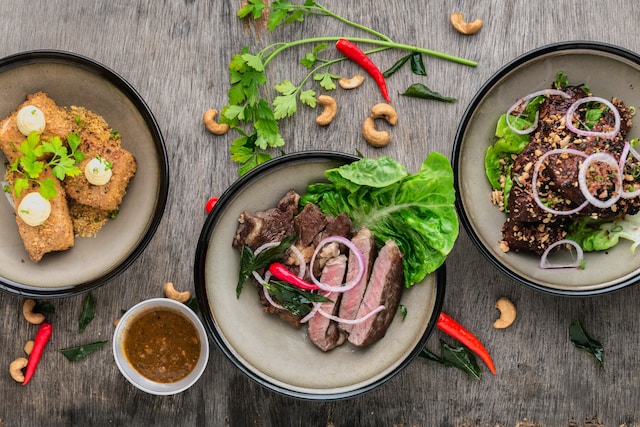 Jamaican Restaurants in Queens NY
Here's a list of five Jamaican restaurants in Queens, NY, along with what makes each one special and links to their Google Maps listings:
The Door – Authentic Jamaican Cuisine [St. Albans – Homestyle cooking] Address: 215-02 Jamaica Ave, Queens, NY 11428 The Door is a hidden gem in St. Albans, known for its authentic Jamaican cuisine. This family-owned restaurant offers a warm and welcoming atmosphere, coupled with mouthwatering dishes prepared with love. From jerk chicken to oxtail stew, their menu showcases a variety of traditional Jamaican favorites. The Door's dedication to quality ingredients and traditional cooking techniques sets them apart, making it a must-visit spot for Jamaican food enthusiasts. Google Maps link
Spices Negril Restaurant & Lounge [Far Rockaway – Vibrant atmosphere] Address: 1197 Grand Ave, Queens, NY 11691 Spices Negril is a lively Jamaican restaurant located in Far Rockaway. This vibrant spot is known for its flavorful dishes and energetic atmosphere. Whether you're craving curry goat, ackee and saltfish, or their famous jerk chicken, Spices Negril delivers a true taste of Jamaica. With live reggae music and friendly staff, it's an ideal place to enjoy an authentic Jamaican meal while immersing yourself in the island's rich culture. Google Maps link
The Door Restaurant & Bar [South Richmond Hill – Late-night dining] Address: 163-07 Baisley Blvd, Queens, NY 11434 The Door Restaurant & Bar in South Richmond Hill is a popular spot for late-night dining and vibrant Caribbean nightlife. Serving up a delectable range of Jamaican dishes, from jerk pork to curry shrimp, this establishment caters to both the hunger pangs and entertainment desires of its customers. With a lively atmosphere and occasional live music, The Door is an excellent choice for those looking to savor Jamaican cuisine while enjoying a fun-filled evening. Google Maps link
Negril Village [Jamaica – Fusion of flavors] Address: 121-01 Rockaway Blvd, South Ozone Park, NY 11420 Negril Village is a Jamaican restaurant located in Jamaica, Queens, offering a fusion of Caribbean flavors and modern culinary techniques. Their menu features an exciting blend of Jamaican, African, and American influences, resulting in unique and mouthwatering creations. Whether you opt for their jerk salmon, curry mussels, or their signature Negril Village surf and turf, your taste buds are in for a treat. With its contemporary ambiance and creative dishes, Negril Village is a standout in the Queens culinary scene. Google Maps link
The Door Restaurant & Lounge [Jamaica – Live entertainment] Address: 218-09 Jamaica Ave, Queens, NY 11428 The Door Restaurant & Lounge, located in Jamaica, is renowned for its lively atmosphere and live entertainment. This restaurant offers a diverse menu of Jamaican delicacies, including traditional jerk dishes, curry options, and flavorful seafood. With live performances ranging from reggae bands to local artists, The Door creates an immersive experience that goes beyond just dining. Whether you're looking for a memorable night out or a great meal.
Want to have an authentic meal at home, try Grace Jerk Dried Jerk Seasoning?
GRACE JAMAICAN DRIED JERK SEASONING